"Naomi is thorough, knowledgeable, pays attention to detail, and a fantastic advocate. Naomi is always good with clients and witnesses. She puts everyone at ease. She has excellent written and oral communication skills. I have no weaknesses to report'' Legal 500 2021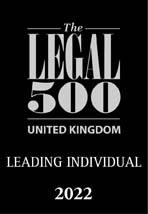 Naomi was called to the Bar in 1994. She has over 20 years' experience as a trial advocate and has been instructed as the sole advocate in a number of appellate cases. In addition to representing clients in court and at mediation, she provides comprehensive advisory and drafting services.
Naomi has been described by solicitors as "Knowledgeable, confident, quick-thinking and well spoken" (Legal 500, 2017) and "An exceptionally calm barrister and extremely well organised" (Legal 500, 2018). "A clear and concise advocate, who is very courteous and always well-prepared" (Legal 500, 2019) and "Her advice is very well-received by clients" (Legal 500, 2020).
Naomi is an ADR Group Accredited Civil & Commercial Mediator, a member of the ADR Group Civil & Commercial Register and a Civil Mediation Council Registered Mediator. She is also a Member of the Charted Institute of Arbitrators.
Naomi was a Chairman of the Leasehold Valuation Tribunal from 2011 until 2013, when its functions were transferred to the First-Tier Tribunal (Property Chamber). She has been a Judge of the Residential Property Division of the Property Chamber of the First-tier Tribunal since 2013.
Since 2018, Naomi has been a Judge of the Land Registration Division of the Property Chamber of the First-tier Tribunal and a Judge of the First-tier Tribunal War Pensions and Armed Forces Chamber.